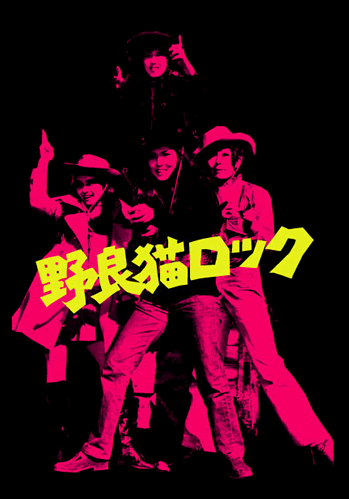 PART 1
The dissonance accompanying the passing of the so-called King of Pop includes obituaries that have gone by all but unnoticed. On Monday June 22nd Yasuharu Hasebe died at age 77. Hasebe was a journeyman director of Japanese action and genre pictures, with a long career that included several inspired films, among them a few brutally transgressive and offensive pieces of exploitation. On his ascent through the ranks of the film industry, Hasebe worked as an assistant to
Seijun Suzuki
. Hasebe is well known internationally for his biker girl films, (a precursor to the
pinky violence
genre) the
Stray Cat Rock
series starring Meiko Kaji.
He will also be remembered for the ridiculous pop kitsch
Black Tight Killers
featuring a team of go-go booted ninja girls equipped with lethal bubble gum and deadly 45 rpm records! When Nikkatsu studios went exclusively 'roman-porno' in the 70's, Hasebe turned out some shocking roughies, like
Assault! Jack the Ripper
. Hasebe also helmed the fourth Scorpion movie (the last one featuring Kaji Meiko)
Grudge Song
. The great
Nikkatsu action series at Japan Society
featured Hasebe's 4th picture, the inspired Nikkatsu Action 'fun with dynamite' yakuza romp
Roughneck (Arakure)
. Hasebe kept working up until his death (pneumonia).
PART 2
Sky Saxon, legendary vocalist, bassist and songwriter of The Seeds, passed away on June 25th
. A fateful day indeed. The story goes that Saxon wrote the proto-punk masterpiece "Pushin' Too Hard" on a 15 minute break during a recording session. You might not know the band name, but you've most likely heard this indelible 2 minutes of pulsing vitriol. The Seeds first album also featured another classic, the haunting "Can't Seem to Make You Mine." Saxon and the Seeds personified the image and sound of snotty, gritty psychedelic garage punk.
Their far spread influence proves the unruly power of two chord rock
. Saxon sounded like a weird, acid casualty, unstable and unpredictable. Freaky stories surround the man, perhaps mostly myth, but whatever the case, his music often proves compelling and inspired.